WE WORK WITH EVERY MAJOR INSURANCE PROVIDER
At Action Health we offer a variety of insurance plans customized to your needs. Whether you are single. married, have a domestic partner or have children we can create a plan made just for you. In order to do this, we work with all major insurance providers. Some of these include Aetna, Blue Cross Blue Shield, Health Alliance Plan (HAP), Meridian, Humana, Molina, McLaren, Priority Health, and United Health Group. To ensure you have the perfect plan, to save time, and to find the best deal, contact us today and we will do the shopping for you!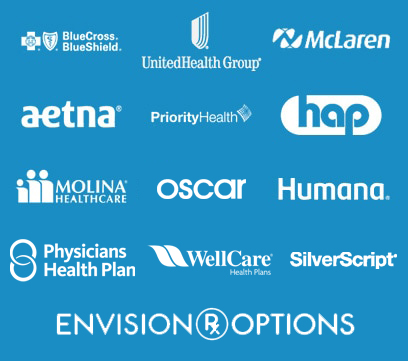 TYPES OF INSURANCE PLANS
---
We offer plans through the Health Insurance Marketplace (healthcare.gov) and will assist you in getting tax credits to reduce your premium. There is no cost for our service. We will enroll you in the same plans at the same cost as if you applied directly by yourself. We also offer the same plans Off Marketplace, direct to the insurance company, for those who are not seeking or qualified for premium tax credits.
HEALTH INSURANCE
We offer ACA compliant health insurance plans which include all Essential Health Benefits (EHB) required by law. There are four Metal Tiers: Platinum, Gold, Silver and Bronze. These plans are designed to cover the following percentage of the average person's expected health costs: Platinum-90%, Gold- 80%, Silver-70% and Bronze-60%. For those clients with incomes less than 250% of Federal Poverty level (FPL), special Silver plans are available that reduce both the deductible and out-of-pocket maximums of normal Silver plans. A very important free service we provide is to evaluate the PPO, EPO and HMO network options to make sure your doctor and hospital accepts the plan. Also, as part of the ACA, you CANNOT be rejected, charged more or assigned a waiting period because of a pre-existing medical condition.
DENTAL / VISION INSURANCE
A healthy smile and good eyesight are important to our clients. We have many types of dental insurance allowing you to choose a plan that meets your needs and budget. And, yes, you can keep your dentist! Many dental plans also include vision coverage
LIFE INSURANCE
We have provided our clients with Life Insurance protection for over thirty years. We offer all types of plans for all ages and income levels. Life insurance is the cornerstone of any financial protection program. Whether you want to provide for a spouse and children in the event of an untimely death, or to preserve your estate from Federal Estate taxes, we can help.
Anybody can get Life Insurance. No medical condition will prevent you from getting some type of plan. For those in really good health, we have carriers that offer very affordable premiums.
We use a Needs-Based Approach with each client. This means we ask questions and listen. Our goal is to come to a consensus with you as to the amount and type of coverage that is best for you. Then we shop among our numerous insurance carriers to find the best deal for you.
We offer both Term and Permanent plans. Term plans pay a death benefit, but do not build any cash value (living benefit). Permanent plans such as Universal Life, Indexed Life or Whole Life have a cash value or savings element that enjoys special income tax advantages. These plans are an excellent way to supplement your retirement income or provide for your childrens' college education.
If you want to be assured that you're getting a good deal, don't worry. It is our goal to find the most competitively priced plan that meets your needs and desires.
LONG-TERM CARE INSURANCE
Health Insurance plans, including Medicare, do not pay for care in a nursing home, assisted living or at home unless you have an acute medical condition and the care is medically necessary. Long Term Care insurance (LTCI) fills the gap for those who do not have an acute medical condition, but need assistance with the activities of daily living such as feeding, bathing, toileting, transferring, dressing and grooming. Nursing home stays can cost $60,000 or more annually which can really drain one's life savings. LTCI will pay the nursing home and preserve your life savings. Most LTCI plans will also pay for care at your home or an assisted living center. We can help design and implement the plan that best meets your needs.
DISABILITY INSURANCE
A monthly income can be paid to you through Disability Income Insurance, if you become unable to work in your profession because of a sickness or accident. Most of these plans will replace up to two-thirds of your income for a period of time up to age 65.
Critical insurance will pay you a lump sum if you experience a critical illness such as heart attack, stroke, cancer, paralysis, coma, kidney failure, blindness or organ transplant. These funds can be used over and above any medical insurance to pay for medical or living expenses.
Contact us today if you're ready to have a health plan tailored to all of your needs.
Health Insurance Company Info
---


With offices in Macomb and Oakland counties, Action Health has served the needs of hundreds of satisfied clients throughout Southeastern Michigan and beyond.
Our mission is to use our network of insurance providers to find our customers a plan that meets all of their needs & budget.
Contact Our Healthcare Agency
---
AREAS WE SERVE:
We help clients throughout the entire State of Michigan